The Pacific Northwest, with its rugged coastlines, lush forests, and towering mountain ranges, beckons the heart of every wanderer. It's a realm where the road leads to enchanting mysteries and the sound of waves crashing becomes your evening lullaby. However, amidst these adventures lies the crucial consideration of sustainability. 
As we chart territories less traveled, our responsibility toward preserving nature intensifies. One integral aspect of this responsibility is choosing the right sanitation solution. Enter dry separating toilets, the unsung heroes of sustainable camping.
Why Dry Separating Toilets?
Dry separating toilets offer a unique solution, dividing liquid from solid waste. This segregation offers two primary benefits:
Odor Management: With waste separated, the toilets remain largely odor-free, ensuring comfort even in the most remote of campsites.
Efficient Disposal: The separated waste is easier to manage, making its disposal more environmentally friendly.
For those driving down the panoramic coasts of Oregon and Washington, or delving deep into the verdant heart of the Olympic Peninsula, these toilets become indispensable companions.
BOXIO - BIO BAG BUNDLE
Stock up and save big! The compostable bags help you with the stress-free and clean disposal of solid waste.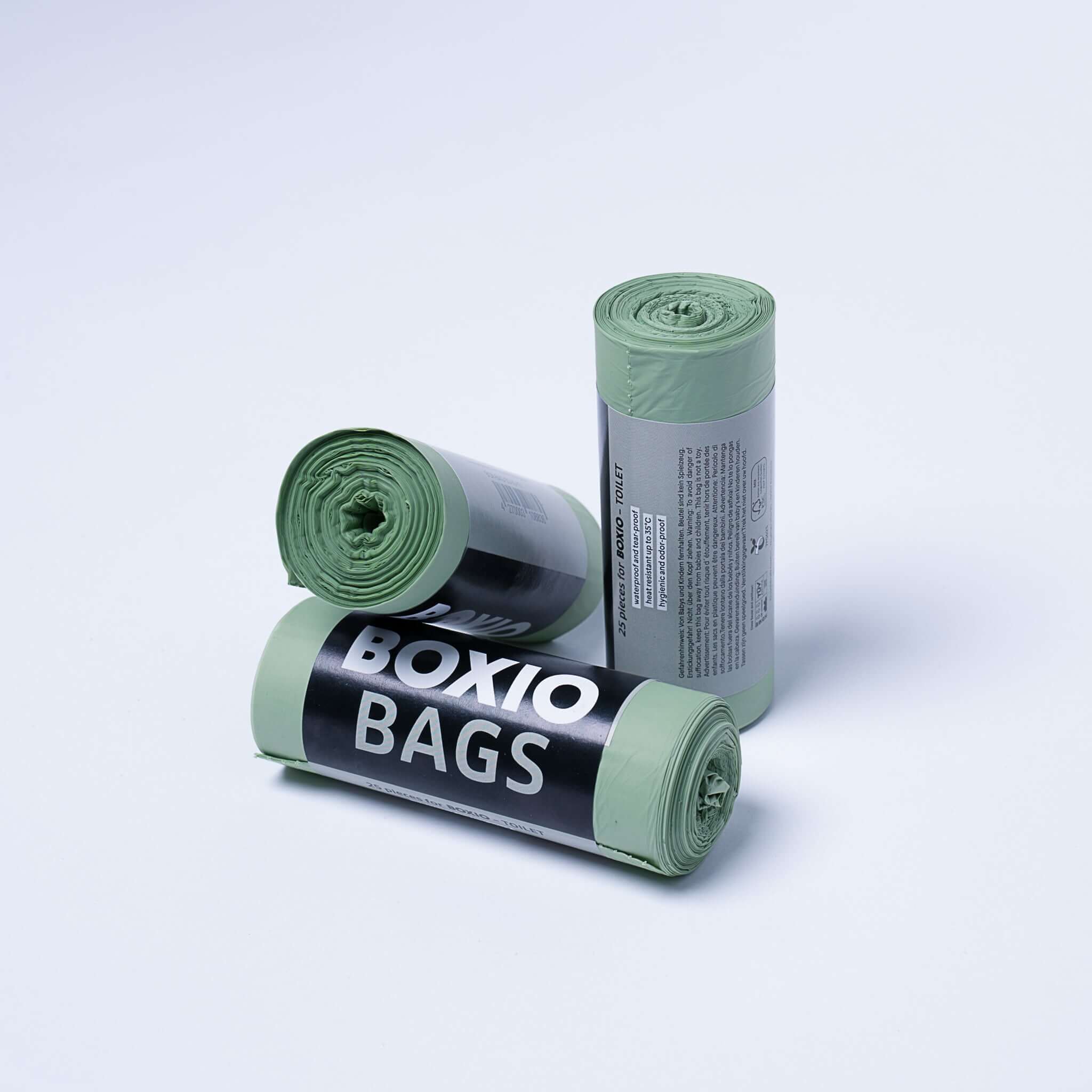 Top Dry Separating Toilets for the Pacific Northwest Explorer:
BOXIO - Toilet:

Perfect for those who love an uncomplicated setup. A compact composting toilet, it's ultralight and ideal for shorter excursions. Made from recycled plastic in Germany, its compact size of 14.7" x 11.8" x 11" ensures it fits snugly in almost every van, pop-top, or luggage space. Plus, with the capacity for about 8-10 uses, it's incredibly efficient.
BOXIO - Toilet Max+ Starter Kit:

For those seeking a rugged solution for longer trips, this variant ensures extended usability and added features. Including the benefits of the standard BOXIO toilet, the Max+ Starter Kit is geared towards those who don't want to compromise on sustainability or convenience during their extended adventures.
TerraGreen Explorer:

Popular among nature enthusiasts, TerraGreen offers a simple design with a focus on minimizing environmental impact. However, while it serves its purpose, it lacks the compact design and aesthetic appeal that BOXIO effortlessly delivers.
EcoTrail Wanderer:

This toilet is often chosen for its durable build, suitable for those rocky terrains in the Pacific Northwest. Yet, many users have mentioned its bulkier design compared to BOXIO, making it slightly less convenient for transportation.
BioJourney Venture:

A name known in many camping circles for its innovative composting technology. While efficient, its slightly higher maintenance compared to BOXIO makes it a second choice for those who prioritize ease of use.
Venturing into the Pacific Northwest's captivating landscape requires equipment that blends practicality, sustainability, and comfort. While there are several reputable dry separating toilets in the market, BOXIO continually stands out. Not only does it prioritize environmental sustainability, but it also guarantees user convenience, making it a top recommendation for those traveling responsibly. So, while exploring options, consider what aligns best with your needs, and you might find BOXIO rising to the top of your list every time.
Explore Sustainably
The Pacific Northwest is a renowned destination known for its pristine environment. In order to maintain its natural beauty, adopting sustainable practices such as using dry separating toilets can make a difference. These toilets offer several ecological advantages, reducing the environmental footprint of campers. Among the options available, brands like Boxio prioritize these eco-benefits, making them an optimal choice for conscious travelers.